Competitive Vaulting Information
To compete you will need to do the following things: ANY ONE CAN COMPETE!!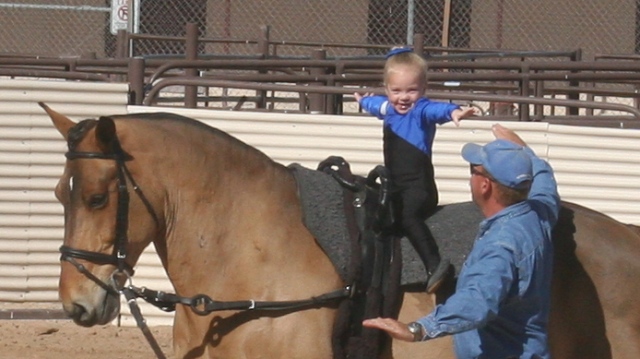 1. American Vaulting Association Youth Membership cost $50.00:
https://www.americanvaulting.org/cgi-bin/ava_register.cgi
2A. FOR GIRLS/WOMAN Buy a unitard
note: The company that sold us our unitards went out of business.
So, you will need to borrow one from us.
2B. FOR BOYS/MEN Buy pants $40.00 and a shirt $30.00 +/- plus shipping:
Black gymnastic pants w/pleats

Pants http://www.ten-o.com/xq/asp/deptId.251/PAGE.1/ID.1156/qx/product.htm

Long sleeve shirt By Bal Togs Fabric in Royal Blue Nylon/Lycra
3. Buy BLACK vaulting shoes 45.00 + shipping: http://www.pvsupply.net/shoes.html
4. Numbered Arm Band Cost $10.00 Ask Sarah for one after you have a AVA Membership.
5. Come to as many vaulting classes as you can.